Instructors

George Rydberg: Guitar, Bass guitar, Keyboard, Saxophone
Eddie Chung: Musical instrument repair
Angela Burns: Piano, Vocal
Tim Ward: Guitar, Banjo, Ukulele
Linda Kelley: Classical Guitar, Bass guitar, Piano, Ukulele
Greg Bolton: Advanced Guitar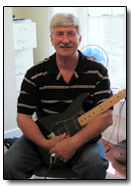 George Rydberg, Owner
George, owner of Manatee Music, is a veteran musician and long-time instructor. He teaches guitar, bass guitar, keyboard, and saxophone. Throughout his musical career, George has played in clubs, at weddings, and in church praise and worship. George owned Paramount Music in Calumet City, Illinois, from 1977 to 1992 before relocating to Bradenton, Florida and opening Manatee Music in 1998. Manatee Music has been at its present location at 2710 Manatee Avenue West since 2002.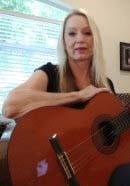 Linda Kelley
Linda Kelley holds a Bachelor of Music degree from Chicago Musical College of Roosevelt University, and a Master of Arts in Music from Governor's State University. She taught at several Chicago area colleges, and is a career player, performer, and teacher. Linda plays professionally as a soloist in flute, guitar, violin ensembles, and in bands and groups.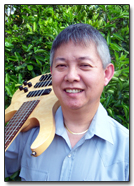 Eddie Chung
Eddie has over 20 years of experience in music instrument repair. He does electric and acoustic guitar and bass instrument setups and repairs. He also does amplifier modifications and repairs, specializing in tube amps. Eddie also does saxophone, clarinet, and flute re-corking and re-padding.