Instructors

George Rydberg: Guitar, Bass guitar, Keyboard, Saxophone
Eddie Chung: Musical instrument repair
Angela Burns: Piano, Vocal
Tim Ward: Guitar, Banjo, Ukulele
Linda Kelley: Classical Guitar, Bass guitar, Piano, Ukulele
Greg Bolton: Advanced Guitar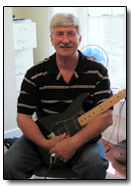 George Rydberg, Owner
George, owner of Manatee Music, is a veteran musician and long-time instructor. He teaches guitar, bass guitar, keyboard, and saxophone. Throughout his musical career, George has played in clubs, at weddings, and in church praise and worship. George owned Paramount Music in Calumet City, Illinois, from 1977 to 1992 before relocating to Bradenton, Florida and opening Manatee Music in 1998. Manatee Music has been at its present location at 2710 Manatee Avenue West since 2002.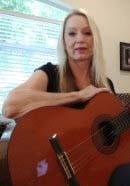 Linda Kelley
Linda Kelley holds a Bachelor of Music degree from Chicago Musical College of Roosevelt University, and a Master of Arts in Music from Governor's State University. She taught at several Chicago area colleges, and is a career player, performer, and teacher. Linda plays professionally as a soloist in flute, guitar, violin ensembles, and in bands and groups.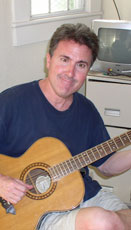 Tim Ward
Timothy Ward began his guitar studies in the mid-1990's. After a detour onto the 5-string banjo while living in western North Carolina for a few years, he returned to guitar with George Rydberg at Manatee Music. Today he teaches primarily acoustic (steel-string) fingerstyle guitar and three-finger "Scruggs-style" banjo. He welcomes beginning to intermediate students on those instruments, as well as beginners on mandolin and ukelele. He especially enjoys helping neophytes understand the "theory" that underlies it all! He has been teaching at Manatee Music for five years.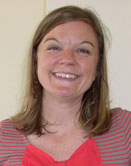 Angela Burns
Angela is the product of a gospel-singer and an accomplished pianist. This harvest has reaped many years of musical training in the areas mainly of voice and piano, since she was six years old. Auditions, recitals and competitions in choir, band, piano and vocal solo/ensemble were all part of her schooling. She studied vocal performance in college and since then has grown as a musician by serving as Church pianist, Teen Ensemble director, Choir member/section leader, Worship leader and Keys player, to name a few. She also perform for various community events and weddings. She has been teaching private/group piano and voice for 5 years and look forward to passing on the musical legacy her parents instilled in her to the next generation.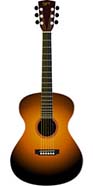 Greg Bolton
Greg Bolton has a B.A. in music from USF & a Certificate from Berklee School of Music in Boston. Greg has played professionally for over 45 years & is currently taking a limited number of students on Friday's & Saturdays. Each lesson is an hour. Students must be at an intermediate or advanced level. Learn to improvise – Blues, Rock, Jazz, and Country. Learn music theory. Diatonic harmony, Key Signatures, Building Major & Pentatonic Scales, Circle of 4th's & 5th's, Intros, Turn Arounds, Endings, and Chord Melodies. If you are serious about learning to be a better guitarist, call Manatee Music.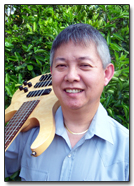 Eddie Chung
Eddie has over 20 years of experience in music instrument repair. He does electric and acoustic guitar and bass instrument setups and repairs. He also does amplifier modifications and repairs, specializing in tube amps. Eddie also does saxophone, clarinet, and flute re-corking and re-padding.